Standard SDK: [RTL8195AM] Airkiss - Use Airkiss to Configure Wi-Fi Connection
AirKiss is a quick-connection technique provided by Weixin device platform for WiFi devices to configure netwrok connection. The WiFi devices must support AirKiss to be configured as a Weixin client. Ameba supports the latest version of AirKiss (version 2.0) with near-field discovery feature. For instance, AirKiss can be used in the following scenarios: 1. When the device is not equipped with data I/O interfaces, such as air conditioners, air purifiers, smoke detectors. 2. When the user is ignorant of IT knowledge, AirKiss provides a simple approach to configure the device.
Preparation
Download APP
Weixin provides AirKiss debug tool, currently for Android only. Download and install from:
http://iot.weixin.qq.com/wiki/document-0_6.html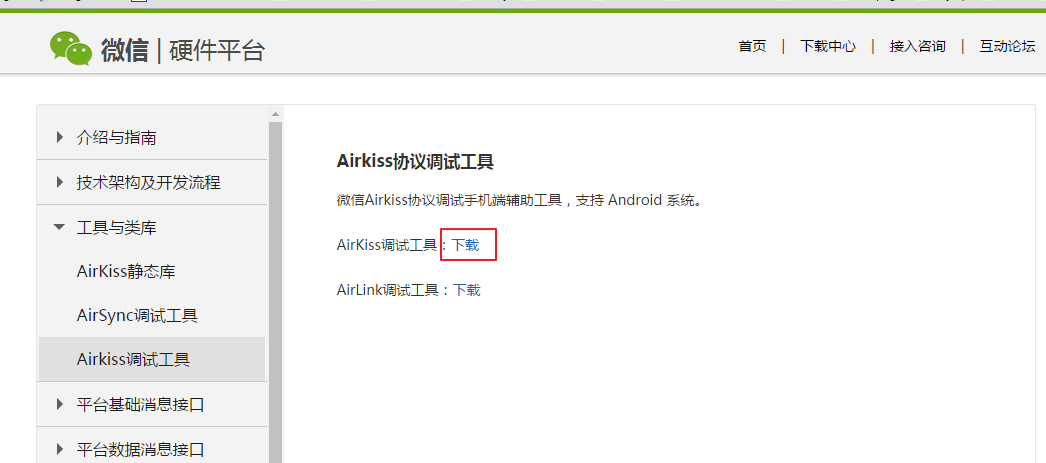 Example
Add Airkiss patch to Ameba project 1. Using the Airkiss patch • Copy the airkiss directory to SDK path: "\component\common\application" • Use wifi_conf.c to override "component\common\api\wifi\wifi_conf.c" in SDK 2. Add Airkiss-related files to IAR project • "Add Group" under the project and name it to "Airkiss" • Add airkiss.c and libairkiss.a to "Airkiss" group.
Modify related settings and make 1. Enable Airkiss In platform_opts.h($sdk\ project\realtek_ameba1_va0_example\inc): "#define CONFIG_AIRKISS 1 //on or off tencent airkiss" 2. Click "make", and download to Ameba.
Use AirKiss to configure 1. First reset Ameba by enter "ATWX" command. Then Ameba starts to listen to each channel. 2. Open the AirKiss Debugger on Android phone. Fill in the WiFi SSID and pass phrase, then click send. 3. When Ameba has gotten all required information, it will be locked to a channel and connect to WiFi 4. When connection is established, a "Bingo" message would appear on the phone and notifies the connection status. To support the near-field discovery feature in AirKiss 2.0, Ameba sends broadcast packets regularly.